SNMP Data Logger (2.0.3.611)
by
Company:
AGG Software
Licence:
Shareware
Platform:
WinXP&nbspWindows2000&nbspWindows2003&nbspWin98&nbspWinME&nbspWinNT 4.x&nbspWin95
Cost:
$65
Rating:
(0 votes)
Download now!
---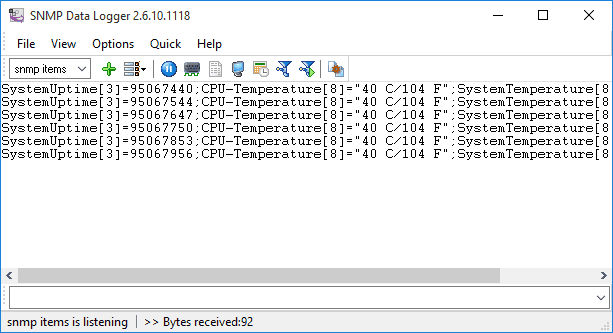 ---
Description:
You may be an experienced hardware or network designer, or an university student making his first steps towards a professional career, or a gifted technology lover illuminated by a new bright technical idea and looking for a handy tool for extending your hardware-utility application. Whichever the case may be, look no further than SNMP Logger, for it may well suffice all of your technical needs.

SNMP Data Logger gets and logs variables from SNMP servers. Assembles and writes real-time data to HDD, MS Excel, DB etc.. The software comes with built-in notification or even scripting capabilities and can post notifications when SNMP values match a rule. Capability to log information from several SNMP servers at once.

The tool can work as a system service, which means that users can log on and off the OS, but the programme will still be there collecting your information. All-in-one functionality and power at a very affordable price!

Main features:
* many plug-in modules;
* optimized, fast and efficient architecture;
* simple, dialog-driven step by step set-up;
* Extended logging features. Can output retrieved values to formatted log files. Supports date/time stamping;
* values saving to ready-to-use Excel or CSV files;
* values outputting to MSSQL, MySQL and any ODBC-compatible DB;
* supports MIB-II, SNMP v1 and ASN.1;
* Capability to log information from multiple SNMP agents at the same time. You can use different connection and information export settings for each configuration;
* works as a standalone or a service application on most Windows versions.
---
Requirements:
one or more SNMP agents
---
Download (10458Kb)
Buy now! for $65
---
Voted best product:
Affiliate Pro v.1.6.1
Increase your sales using poweful affiliate software with lots of features. Brief list of features includes: 5 different ways of commission configuration: per-click, flat per sale, % per sale, flat per first sale, % from first sale. Combinations of this options can make up to 31 different affiliate program, support of flat and recurring sales; Automated or Manual approval of each sale and each affiliater registered on the site. Feature for administrator to handle and proccess chargebacks/refunds, poweful payout mechanism, very easy interface for webmasters to get linking code; ability to group several products with the same commission. Very easy and flexiable integration with any shopping cart and billing system and our special: Free installation/integration of the script with your software by professional software developer. All standard features inclued, please check our demo.

More info | DEMO
News: