WTM Copy Protection / CD Protect (2.43)
by
---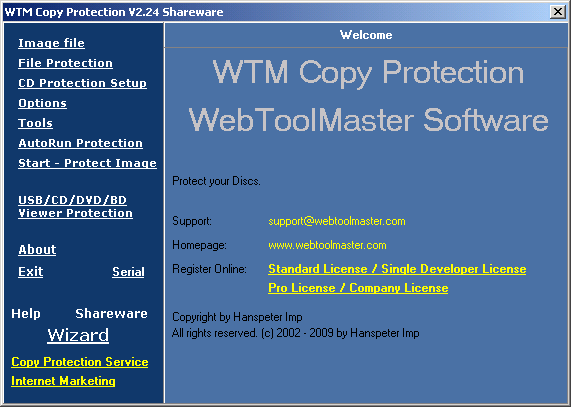 ---
Description:
Need a good copy protection measure? Worried about piracy? WTM CD Protect - Protect your software against illegal copy. If you are looking for easy to use, simple and effective CD protection then look no further. More profit with less illegal copies. Allow WTM CD Protect to handle this for you.
---
Requirements:
none
---
Download (1367Kb)
Buy now! for $300
---
Voted best product:
Affiliate Pro v.1.6.1
Increase your sales using poweful affiliate software with lots of features. Brief list of features includes: 5 different ways of commission configuration: per-click, flat per sale, % per sale, flat per first sale, % from first sale. Combinations of this options can make up to 31 different affiliate program, support of flat and recurring sales; Automated or Manual approval of each sale and each affiliater registered on the site. Feature for administrator to handle and proccess chargebacks/refunds, poweful payout mechanism, very easy interface for webmasters to get linking code; ability to group several products with the same commission. Very easy and flexiable integration with any shopping cart and billing system and our special: Free installation/integration of the script with your software by professional software developer. All standard features inclued, please check our demo.

More info | DEMO
Copy Protect
Copy Protect audios, videos and documents.
EXE Bundle - The file joiner
File Joiner
Multimedia Protector
Protect Flash, PDF, PPT, EXE, Video
Licence Protector Multimedia Edition
Protect Flash, PDF, PPT, Word, Video, Audio
Prevent pdf from print copy
Pdf security tool to restrict pdf print copy
Copysafe Web
Copy protect images on your web site.
Copysafe Web
Copy protect images on your web site.
E-Book Protection and License Creation Utility
E-Book Protection and License Creation Utili
PDF Security OwnerGuard
PDF Security, PDF DRM & Protection Solution
Logic Protect
Anti-piracy, Copy Protection Tool
CopyKiller
CD Copy and USB Flash Drive Copy Protection
DoneEx XCell Compiler
Excel workbook and VBA copy protection tool.
News: