Website Monitor Utility (2.0.1.5)
by
---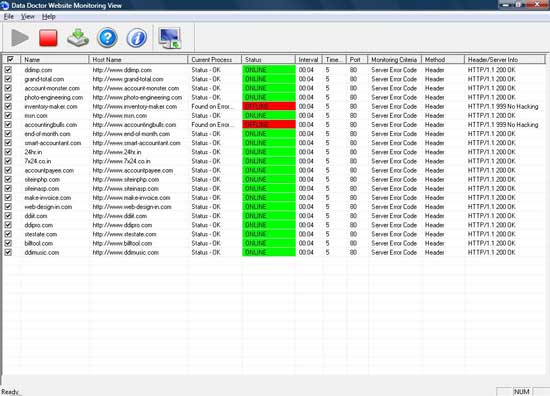 ---
Description:
Website monitoring software securely monitors uptime, ping status and downtime notification of web sites in real time and alert to you when website goes down and determines uptime, downtime and ping status of any web based application. Website uptime monitoring software checks multiple website concurrently at regular interval and notifies you by sending email or beeps a selected sound or runs a specific program when website becomes unavailable. Remote website monitoring tool quickly responds to you when any website is down due to error messages like low bandwidth, server not found, connection failed, host not found, inaccessible, low connectivity, unavailable or loads improperly. URL monitoring software checks the uptime, down time and response time of websites and supports different type of internet protocols including POP3, HTTP, HTTPS, SMTP and FTP server protocols. Website network monitoring utility provides easy to use graphical interface and does not require any technical skill to operate it. Real time site monitoring tool is helpful for business purpose by ensuring availability of the website around-the-clock. Website downtime checker software run on all Microsoft windows based operating system including windows 98/2000/ME/NT/XP and Vista.
Features: * Website performance checker application is completely run at desktop background at your computer and closely watches different websites simultaneously.
* Website availability checker utility can work effectively and detects slow server response, ping status, unreachable and low connectivity for multiple websites at a single time.
* Website tracking tool notify to you by sending email or generate predefined sound beep or run specific program on administrator system.
* Web server monitoring software support all types of internet server protocols including HTTP, HTTPS, SMTP, POP3 and FTP server protocols.
---
Requirements:
128MB RAM, 20MB Disk Space for installation
---
Download (1290Kb)
Buy now! for $69
---
Voted best product:
Affiliate Pro v.1.6.1
Increase your sales using poweful affiliate software with lots of features. Brief list of features includes: 5 different ways of commission configuration: per-click, flat per sale, % per sale, flat per first sale, % from first sale. Combinations of this options can make up to 31 different affiliate program, support of flat and recurring sales; Automated or Manual approval of each sale and each affiliater registered on the site. Feature for administrator to handle and proccess chargebacks/refunds, poweful payout mechanism, very easy interface for webmasters to get linking code; ability to group several products with the same commission. Very easy and flexiable integration with any shopping cart and billing system and our special: Free installation/integration of the script with your software by professional software developer. All standard features inclued, please check our demo.

More info | DEMO
News: